Mercury pays us a fleeting visit in the evening skies this month, although never getting very high in the late evening twilight sky. A good, low NW horizon will be needed to catch the "messenger of the Gods" although the bright "new star" in that area of the sky will be quite obvious, soon after Sunset. For much of the month, Mercury will be visible for around an hour or so after Sunset, and one of the best chances of spotting the planet will be on the 25th July, when a thin crescent Moon will be 7o to the right of it. A challenging but interesting photo opportunity?
Jupiter continues to be the "dominant" planet on show this month, beaming away in the SSW sky after Sunset. The "King of the Planets" gets a pair of visits by the Moon this month, on the 1st, a slightly more than first quarter Moon will be seen just to Jupiter's left, while on the 28th July, the Moon will make a much closer visit, although closest approach occurs with the Moon and Jupiter both low in the SW sky.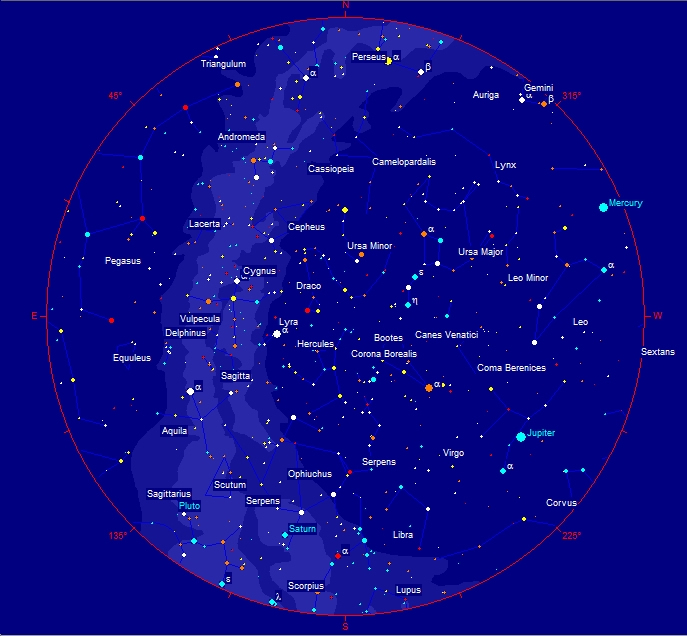 Saturn is visible all through the short July night, although continues to be at a low altitude for us more northern observers. This is a shame, since it will be several years until the planet slowly draws out of the Southern zodiacal constellations where it currently resides and thence improving it's visibility. It still remains however, the Planet with the "wow" factor. An almost Full Moon will be close by on the night of the 6th.
The final visible Planet on show is Venus, shining in the Easterly morning twilight skies. A fine photo opportunity exists – weather permitting – on the mornings of 20th and 21st July when the Moon lies close by.
As with last month, there still exists a chance to see and photograph a noctilucent cloud display. Your best chance at catching a display is by looking some 70-90 mins after Sunset or before Sunrise and finding a good, low NW or NE horizon. Displays have already been reported this "season", the best being around the 16th June with reports received from all across England, some as far south as Bedfordshire. Keep your eyes peeled, you just never know your luck.
On the meteor front, there are no major showers at their maximum this month, although one of the more famous and productive showers, the Perseids, start to become active in the last week of July as the Earth begins it's passage through the material laid down in space by the showers parent cometary body. The Perseids are best seen to the East in the hours from Midnight through to Sunrise, with the maximum occuring next month.
Wishing you all clear skies,
Les Fry - Mid Wales Astronomy.